The Back Story:
†
A nicer guy you will never find in the pit area than Cheshire MAís Rick Moffett.† The expression give you the shirt off his back gets more over used than Paris Hilton after a few drinks, but in Rickís case, nothing could be more true.† Quiet and unassuming, Rick started his passion for racing wheeling his familiar #4 medium block street stock in the mid 80ís.† Craving more, albeit on a low budget, Rick moved up into the sportsman ranks to try his hand at open wheel competition by the early 90ís.† Rick was competitive on an extremely tight budget, spending a 1/4th of what his competitors were weekly, many times running on used parts.† On August 28th, 1993, Rick scored one for the little guys, and for those who, with hard work and determination, can accomplish what they set out to.† Rick triumphed in the 20 lap sportsman feature that night, giving his crew heart palpitations along the way as sparks flew out from the #71 late in the feature, but it was simply a loose floor pan and Rick cruised to his first and only open wheel triumph.
Rick later walked away from the sport he loves & never looked back, but still lives in Cheshire and is employed by G.E. Plastics.
Second Photo: Close racing Donnie Corellis and Rick during the evening sportsman feature, circa 1992.
Third Photo: Hereís what itís all about, as Rick Moffett of Cheshire grabs a win in the Medium Block division.† Rick had many fans, as this button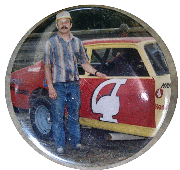 proves sent in from a longtime Moffett follower.