The Back Story:
This is from opening day 1971. Cars were lined up at the scale for inspection. I know that the #57 is Rod Fifield. I know that the Bernie Darling #70 had been driven by several drivers after Bill Scheffel retired.
Gordon Aldrich had driven the #70 in 1970 but I'm not sure if he returned to the seat in '71.
Stanley Wetmore drove the #70 at the "71 Eastern States 200 at Middletown, and returned to drive the car at Lebanon in 1972.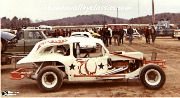 I don't have any results records for the 1971 season at Lebanon which could identify the driver, but perhaps someone else can help.
This is a real Mystery because the submitter of the photo doesn't know the identity of the driver......WTF.......!!
(No Shame in not knowing Aintgotime, the staff here at LVC (2) does this all the time, it's how we operate, we're just livin' on the edge.)
Mr. aintgotime4this
The Bernie Darling owned #70 white coach dirt modified was also driven by Jimmy Glass, Son of the legend Buddy Glass.  Bernie Darling kept the # 70 at a gas station in Port Ewen, New York.  Jimmy Glass flipped the car at Lebanon Valley.  This was mentioned in the "Cavalcade of Auto Racing" by Jim Moffet.
<![if !supportEmptyParas]> <![endif]>
~William Shaw